"We can easily forgive a child who is afraid of the dark; the real tragedy of life is when men are afraid of the light."
– Plato
Fear holds us back from a lot of different, sometimes very important, things in our lives.
We can let fear dictate where we go, what we do, who we associate with, and a significant amount of other aspects of our lives.
Fear can prevent us from talking to that person we like; it can prevent us from going to that place we've always wanted to go; more seriously, fear can prevent us from asking for that promotion we feel we deserve; it can prevent us from sharing a great idea; it can keep us from starting that business we've always wanted to start.
Fear does a lot to inhibit us from attaining or experiencing what we want to out of life and, for a lot of us, fear holds us back from being the people we want to be.
According to Lifehack, the top 10 fears that hold us back are:
1. Fear of Rejection
2. Fear of Failure
3. Fear of Uncertainty
4. Fear of Loneliness
5. Fear of Change
6. Fear of Loss of Freedom
7. Fear of Being Judged
8. Fear of Something Bad Happening
9. Fear of Getting Hurt
10. Fear of Inadequacy
Now, I don't know about you but I've experienced all of these at least once in my life – and I'm sure if you think about it, most of you have too.
It's a common thing to be afraid of things, though it is our ability to move past our fears – to conquer them – that makes us great.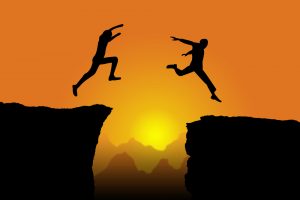 However, it isn't always as simple as willing ourselves to do something that we're afraid to do. If you're anything like me, you have to work at it.
The Game
Hope is not lost for those of us who cannot simply reach inside and grab hold of the courage necessary to conquer fear. And perhaps simply finding the courage to say something you want to say doesn't mean much if you're unable to articulate it.
Noah Kagan, founder of product marketing startup SumoMe, invented a game with this understanding.
Referred to as the "Stranger Challenge" or the "Coffee Challenge," Kagan created this game with the belief that one could conquer fear by creating small interactions in order to make the player feel uncomfortable.
This might entail asking for 10 percent off of your next purchase of coffee or purposefully sitting in the wrong seat on a plane.
These games were not created in order to be rude, rather the purpose is to get yourself out of your comfort zone. The end result of the game isn't that you get your discount or you are able to sit in a different seat – the end result is that despite being in an uncomfortable situation, you survived.
So try playing this game every once in a while and you too, will build up your courage and conquer your fears one step at a time.
Tags:
Change
,
fear
,
game
Posted
by